[ SDF Public Access UNIX System .. Est. 1987 ]
join
welcome
faq
status
members
projects
store
tour
gopher
abuse
dialup
minecraft
social
tilde
nihongo
europa
webmail
gallery
usermap
irc
tutorials
telnet
git
ssh
---
2009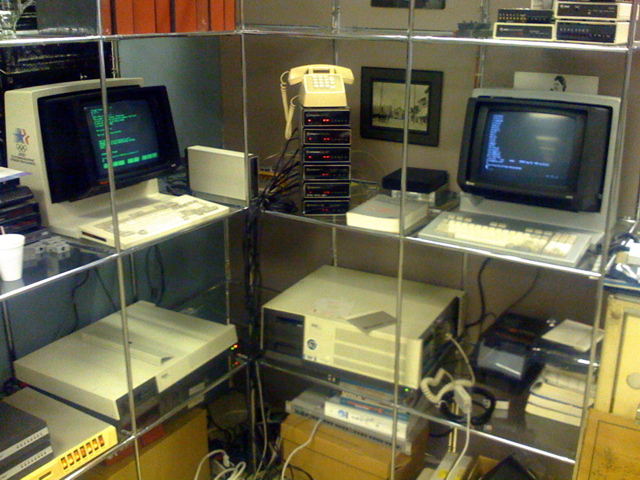 Here is the old SDF AT&T 3B2/500 UNIX System, which was decommissioned in 1998, making its debut
with the Qwest Museum of Communications at the Duwamish Central Office in Seattle WA on January 20th, 2009.
Visitors can access the system via Model 33, Model 35 and Model 37 Teletypes @ 110 and 150 baud,
Model 43 @ 1200 bps and 4410 video terminals at 9600 bps. 8 dialup lines are provided by a working
Western Electric #5 Cross Bar office switch. There is a small UUCP network using two Telebit TB+
PEP modems which were used by SDF to communicate with Southern Methodist University,
Adaptec Corporation, Texas Instruments and others from 1990 up until 1998.
Visit the OLD SDF in person
The Museum of Communications
7000 E. Marginal Way S.
Seattle Washington 98108
(Open Tuesdays between 8:30am and 2:00pm)

Visit the OLD SDF virtually
telnet://3b2.sdf.org
(login as 'visitor')
-or-
via C-NET 1-232-0074 (110, 150 and 300 baud) on Tuesdays
[back]
---
©1987-2065 SDF Public Access UNIX System, Inc. 501(c)(7)
(this page was generated using ksh, sed and awk)