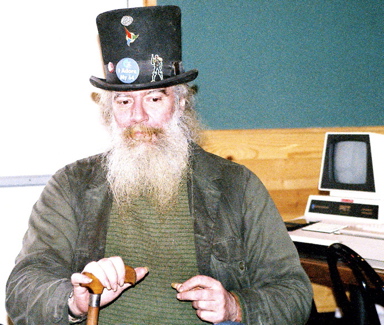 Dave "Lord Ronin" Mohr
(1950 - 2009)
Rest In Peace
From Robert Bernardo of the FCUG ..
On Thursday, December 3, at approximately 8:30 a.m, Dave "Lord Ronin" Mohr passed away due to heart failure. Dave was a passionate devotee of all things relating to Commodore and Amiga computers. For many years, he was chancellor of the Anything Commodore User Group (a.k.a. Astoria Commodore User Group) in Astoria, Oregon. He was a prolific writer for his club's monthly newsletter, "The Village Green". He also wrote for Commodore Free magazine, worked regularly on the disk-of-the-month for the Clark County Commodore Computer Club of Las Vegas, and edited the newsletter of the Meeting Commodore Users Through The Mail. He was an active participant on the Homestead mailing list, the ACUG0447 mailing list, and on Facebook. He organized ACUG's MossyCon Commodore events 1-5.
From Stephen Jones of SDF, ACUG and FCUG)..
During MossyCon IV I made Dave's 'year' by making several purchases from his unique Commodore/Gaming store 'Mohr Realities' tucked away in a basement just off the main road in Astoria. I used to joke with Dave by calling his shop 'Mohr Realty' and crank called him only once stating that I was looking to purchase property. He was a kind person with a calm demeanor and he could have a friendly conversation with anyone. Years of pipe smoking stained everything around him which no doubt limited his friendships, but his genuineness and choice of words would draw anyone in. He was a cross between a character of The Prisoner and Gandalf .. and he spoke and carried himself as one too. RIP.
from the last issue of ACUG's newsletter, The Village Green
My Commodore-Amiga Life
by Lord Ronin from Q-Link
As a way to bring in more information about us and our interests in the sacred and most holy C=, I am starting this series, hoping that I will have information from the members for each issue on your life story with our beloved PC. Sort of been thinking about this idea since DMackey sent in his background on the sacred PC. So don't feel lonely; tell us about your life with the CBM line.
OK, I'll start off; it is my job, I guess. Let's do a time warp back to the mid 80's. I was working as that most vile and evil thing, a telemarketer. Well, in my defense, it was for the state, and it was licensed, and it was for the Special Olympics. At that time I was computer-phobic, while my mother had been teaching adults to read for several years. She had one student that had to have his wife fill in the job applications and read the newspaper to him. Yet, he was a Commodore user, and I suspect but can't prove [that he was] a member of the users group in Grants Pass, Oregon. Don't ask me how he could use the C=, but he could and got my mum interested in it. So in 1986, she bought a 64, off-brand name monitor, black MPS-803 printer, 1541 drive, diabetic programmes, other programmes that I have yet to be able to look at, and a computer desk. Speed ahead for a moment. That desk is now in the shop and is the 64C set up. Disk drive was smashed by Mark Reed, and the printhead went out on the printer. Sold the monitor, as I had six 1702s at the time. My wife at the time and I had visited [mum], and she came several times to visit me, saying that I needed a computer as I was a writer. Yeah, like we believed that last part.
Skipping ahead to 1993, March to be exact. The wife had been gone for six years. Would have been nice if before she married me, she had divorced three other husbands. [That day], I get a cop at the door of the shop where we were still sweeping the floor and moving things into our new location. I can still remember where everyone was standing at that time; [the cop informed me that] my mother was in the hospital with a heart problem. She was 400 miles away, and I had no transport. But one of my martial arts students and gamers had a car and time off. I had a few coins to lay on him for gas. He took me the 400 miles at breakneck speeds in a little Honda, I white-knuckled the entire trip. Literally, made it there in record time. Went to the hospital the next day. I had the keys for her place... oh, wait, I still have the keys... where I found out she had that she had heart trouble. A quintuple bypass had been performed, and they had jump-started her on the table around three times. Wish she had sued them, as she had a DNR (Do Not Resuscitate) on her paperwork that they ignored; I [could have] had a lot more C= stuff now and not be on disability (VBG). Oh, add here that it was 1987 that I was declared permanently disabled.
Well, she had more tubes in her than my 1936 Hallicrafters SWR (shortwave radio). All she wanted to talk to me about was her OBE (out-of-body experience) with my father and the Commodore system she had for me in the shed. Like man, I was really interested in the computer at that time (not in the least). But how do you argue with a 70 year old mother that is pushing a computer on you? OK, when they tossed me out of the hospital, I went back to her place [which] was in walking distance for me at that time. In the shed at her retirement trailer court, there was a breadbox 64, SR-3000 monitor (she didn't know it also did 80 col.), Okidata 120 printer, funky joystick to my eyes, a couple of factory boxes of things, Word Writer 4, The Hobbit, and three boxes of "archive" disks. Loaded that up in the little car. No idea how it fit. Got good and drunk that night on Burgermeister, my father's fave beer (also not in the stores in Astoria). Said good-bye to her the next day and had another white-knuckle ride back to Astoria, where the system was laid out on a little coffee table. I was scared to death of it. Well, two of the commune/kibbutz members had some computer experience -- one with the Rat Shack "Colour 64", the other with an Apple. Tell you here that both were impressed with the Commodore. Good thing the users guide was in the mess. Now I'll add here that at that time, I didn't know about platform-specific or anything. Didn't know that C= disks didn't work in anything but Commodore. All I had done in computers in the past was key punch on cards in college and pop out 4K chips replacing them with 8K chips in TRaSh-80s at the Shack. Now I had this cybernetic monster in front of me.
Hey, it had this great factory disk box and copy with manual of Acro Jet. The three of us destroyed the disk, playing it so much the first night I returned. Then all those arcade games in the "archive" disks... spent a few days playing with those and learned that I could make things in the Word Writer 4 programme. So I did a few little things for the nightly RPG (role-playing game) group. Looked better than my scrawl of handwriting. I was starting to like the "friendly" PC. During the year of 93, I was at the cafe that was next to the shop, [having] known the people for years. Not sure how the conversation started but in the end, they were selling off their C= system. I thought it was a great idea to have one in the shop at that time. Been one in the shop ever since. Well, it was a breadbox, some disks... all I remember was "archive" copy of Project Firestart that had me for months tearing out my hair on how to play it, but the intro scenes were what sold me on the power of the C=. Along with that came an amber monitor... not a lot of fun, I admit. Well, it was in October of that year... kids were out doing trick-or-treating with the downtown merchants a couple of days before Halloween, when a guy I had worked with in a small boat building place over a decade earlier came in and saw what I was playing with at the time. Told me all about the "Astoria Commodore Users Group", which he said was a big copy party group... like I understood what that meant at the time. Laid a phone number on me and hooked me with the fact that disks cost 25 cents each at the meetings. I didn't know about the how, where, or why to get the disks. Yeah, I was using the master copies... a real lamer. To be short, I went to the November meeting, joined in December, and Mark Reed joined in January of 94.
Over the next approx. 16 years, my idea for a name change was accepted for the group. Became the editor, 128 librarian, 64 deputy librarian, 64 librarian, and finally the president... a title which was changed to Chancellor. Newsletter expanded. A BBS was up from 1996 to 2005 and will be up again. Shop added the hardcopy library to the floor space. Later, the software collection and hardware for sale, with a reduced rate for group members. I ended up doing more and more writing on the C= system, moving from the Newsroom to GEOS and later to GeoPub... then to Wheels and what we have today.
OK, that is the short of it. As for my Amiga stuff... well, this has gone on too long, and the Amiga and me is better done at a later time. However, you can tell it was all my mother's fault that she created this Commodore fanatic. Now it is your turn to relate your C= history. Feel free to add what you doing today as well.